-Bath & Changing Rooms- Maximum capacities of the ladies' room, men's room and men's changing room will be indicated on temporary signage on each and will be monitored. Please do not wait until the last minute to use them!
-Slides & Ladders- Waiting line distance spots are marked.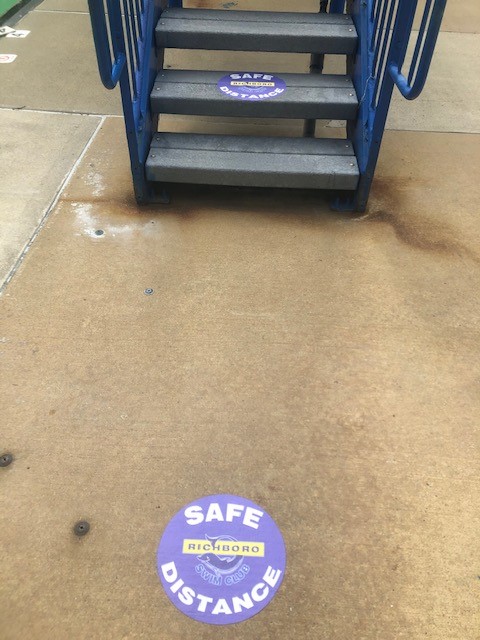 -Reef Cafe- Waiting line distance spots are marked. In addition, the Reef staff will be providing mobile ordering for larger orders and there will be a separate PA system for calling members when order is ready.
-Deck & Patio Tables- Unfortunately, to comply with distancing during the yellow phase, only half of the deck and patio tables will be available and only members of your household can sit at the same table. The non-reserved sections on the lower pool deck will have non-available tables marked as such. Seating in all Reserved Sections (upper and spray area pools) must be occupied no more every second table all the way around. What this means is that if the table labeled with your name has an occupied table on any side of it, you just grab any table that is available on your patio that is not adjacent to another table and is open on all sides. Keep in mind that this could cause the table with your name on it to be occupied by someone else. When the tables in the spray pool area are 50% occupied, you have 2 choices, move your table to a convenient close grassy area and then put it back at end of your stay or go to your car and bring in chairs and lounges you are carrying in your car for such an occasion and use them in the grassy areas.
The table social distancing, with everyone's co-operation should not be a problem most days as deck tables on the majority of days are usually less than 50%-60% occupancy at any one time.
We do STRONGLY suggest carrying some chairs in your car that can be used in the grassy areas on busy days when available tables could be in short supply.
-Lounge & Deck Chairs- Lounge and deck chairs are available for member use on the decks surrounding all 4 pools. All of them are available but one lounge must remain unoccupied between household groups. Example- Bill and Mary Smith can sit in adjacent lounges. If John Jones, who lives in another household arrives, he would skip a lounge and sit in the next one, etc.
As above, we do STRONGLY suggest carrying some chairs in your car that can be used in the grassy areas on busy days when available lounges and deck chairs could be in short supply.
IMPORTANT- There can be no advance saving of tables, chairs and lounges in any section. When you come in for the day, you can begin using but no saving for others arrival.
Grassy Areas- We will have about 18 non-reserved picnic tables in our spacious picnic area that will be spaced at appropriate distances. Also, in the picnic area and at the grassy area between upper pool slope and the entry drive fence, there will be pre-defined household seating areas that will be identified by large white marks spaced at 18ft intervals. Just place your chairs and belongings within 6ft of that mark all the way around and that will provide 6ft distance from the next household group. Please remember to take your chairs and belongings with you when you leave as we are not permitted to provide a storage area for chairs, floats, tubes and other personal belongings.
Upper Pool Steps & Other Areas- will be marked where feasible but, most importantly, let one another pass each other and leave 6ft intervals between yourself and others throughout the facility.
Importantly, Health Dept Rules Are Once You Pick Your Seating Spot For The day You Must Keep Your Same Seating Throughout That Day.
In Pools- Six foot social distance to be maintained between members of different households. There is room to do this on the majority of days. However, there may be certain busy days when we may have to rotate groups in the pools. No masks may be worn in pools.
Sanitation
-Hand sanitizer stations will be provided at clearly marked stations throughout the property. We encourage their frequent use. Foaming soap is available in the bathrooms and changing areas.
-Bathrooms & Changing Rooms will be sanitized at opening and frequently throughout the day as will out of water common touch areas such as counters, knobs, etc.
- All tables, chairs and lounges will be sanitized before opening each day And Throughout The Day. As members, we Also ask you to take responsibility for sanitizing the chairs, table or lounges that you use on a particular visit. Please bring the sanitizer of your choice. If you forget, there will be sanitizer bottles here that you can use. If you use one of these bottles, please return it to front desk after your application.
Games & Play Equipment- We encourage everyone to bring their own ping pong paddles, kickboards, balls, etc but they must be taken home at the end of the day. Anything left after closing will be discarded. All the items normally available at the front desk wil be available and will be sanitized via ultra-violet light between uses.
Lost And Found - According To Health Guidelines There Can Be No Lost & Found Area This Year. Anything Left Behind Must Be Discarded At Closing Each Night.